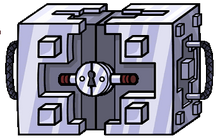 The Silver Capsule is an uncommon capsule that cannot be bought for gold. It is most commonly awarded for ranking up, but can also be earned as a reward for reaching a certain rank in an event. They contain a large amount of Science and Cards, guarantee several Rare Cards, and unless one's rank is below

Rank 14, one or more Epic Cards.
Contents
[
]
Silver capsules contain larger amounts of science and cards than wood and stone capsules, as well as 10 special operations points. Note that some earlier silver capsules gained from ranking up are scripted so that their contents are always the same.
Contents of Silver Capsule (Averages for cards)

| | | | | | | |
| --- | --- | --- | --- | --- | --- | --- |
| Rank | Science | Cards | Common | Rare | Epic | Supreme |
| 1 | 95-105 | 10.00 | 7.21 | 2.50 | 0.286 | 0.20% |
| 2 | 95-105 | 10.00 | 7.21 | 2.50 | 0.286 | 0.20% |
| 3 | 95-105 | 10.00 | 7.21 | 2.50 | 0.286 | 0.20% |
| 4 | 95-105 | 10.00 | 7.21 | 2.50 | 0.286 | 0.20% |
| 5 | 105-116 | 12.50 | 9.02 | 3.13 | 0.357 | 0.25% |
| 6 | 114-126 | 15.00 | 10.82 | 3.75 | 0.429 | 0.30% |
| 7 | 124-137 | 17.50 | 12.62 | 4.38 | 0.500 | 0.35% |
| 8 | 133-147 | 20.00 | 14.42 | 5.00 | 0.571 | 0.40% |
| 9 | 143-158 | 22.50 | 16.23 | 5.63 | 0.643 | 0.45% |
| 10 | 152-168 | 25.00 | 18.03 | 6.25 | 0.714 | 0.50% |
| 11 | 171-189 | 27.50 | 19.83 | 6.88 | 0.786 | 0.55% |
| 12 | 190-210 | 30.00 | 21.64 | 7.50 | 0.857 | 0.60% |
| 13 | 209-231 | 32.50 | 23.44 | 8.13 | 0.929 | 0.65% |
| 14 | 228-252 | 35.00 | 25.24 | 8.75 | 1.000 | 0.70% |
| 15 | 247-273 | 37.50 | 27.05 | 9.38 | 1.071 | 0.75% |
| 16 | 266-294 | 40.00 | 28.85 | 10.00 | 1.143 | 0.80% |
| 17 | 285-315 | 42.50 | 30.65 | 10.63 | 1.214 | 0.85% |
| 18 | 304-336 | 45.00 | 32.46 | 11.25 | 1.286 | 0.90% |
| 19 | 323-357 | 47.50 | 34.26 | 11.88 | 1.357 | 0.95% |
| 20 | 342-378 | 50.00 | 36.06 | 12.50 | 1.429 | 1.00% |
| 21 | 352-389 | 52.50 | 37.86 | 13.13 | 1.500 | 1.05% |
| 22 | 361-399 | 55.00 | 39.67 | 13.75 | 1.571 | 1.10% |
| 23 | 371-410 | 57.50 | 41.47 | 14.38 | 1.643 | 1.15% |
| 24 | 380-420 | 60.00 | 43.27 | 15.00 | 1.714 | 1.20% |
| 25 | 390-431 | 62.50 | 45.08 | 15.63 | 1.786 | 1.25% |
| 26 | 399-441 | 65.00 | 46.88 | 16.25 | 1.857 | 1.30% |
| 27 | 409-452 | 67.50 | 48.68 | 16.88 | 1.929 | 1.35% |
| 28 | 418-462 | 70.00 | 50.49 | 17.50 | 2.000 | 1.40% |
| 29 | 428-473 | 72.50 | 52.29 | 18.13 | 2.071 | 1.45% |
| 30 | 437-483 | 75.00 | 54.09 | 18.75 | 2.143 | 1.50% |
| 31 | 447-494 | 76.00 | 54.81 | 19.00 | 2.171 | 1.52% |
| 32 | 456-504 | 77.00 | 55.53 | 19.25 | 2.200 | 1.54% |
| 33 | 466-515 | 78.00 | 56.26 | 19.50 | 2.229 | 1.56% |
| 34 | 475-525 | 79.00 | 56.98 | 19.75 | 2.257 | 1.58% |
| 35 | 485-536 | 80.00 | 57.70 | 20.00 | 2.286 | 1.60% |
| 36 | 494-546 | 81.00 | 58.42 | 20.25 | 2.314 | 1.62% |
| 37 | 504-557 | 82.00 | 59.14 | 20.50 | 2.343 | 1.64% |
| 38 | 513-567 | 83.00 | 59.86 | 20.75 | 2.371 | 1.66% |
| 39 | 523-578 | 84.00 | 60.58 | 21.00 | 2.400 | 1.68% |
| 40 | 532-588 | 85.00 | 61.30 | 21.25 | 2.429 | 1.70% |
| 41 | 542-599 | 86.00 | 62.03 | 21.50 | 2.457 | 1.72% |
| 42 | 551-609 | 87.00 | 62.75 | 21.75 | 2.486 | 1.74% |
| 43 | 561-620 | 88.00 | 63.47 | 22.00 | 2.514 | 1.76% |
| 44 | 570-630 | 89.00 | 64.19 | 22.25 | 2.543 | 1.78% |
| 45 | 580-641 | 90.00 | 64.91 | 22.50 | 2.571 | 1.80% |
| 46 | 589-651 | 91.00 | 65.63 | 22.75 | 2.600 | 1.82% |
| 47 | 599-662 | 92.00 | 66.35 | 23.00 | 2.629 | 1.84% |
| 48 | 608-672 | 93.00 | 67.07 | 23.25 | 2.657 | 1.86% |
| 49 | 618-683 | 94.00 | 67.80 | 23.50 | 2.686 | 1.88% |
| 50 | 627-693 | 95.00 | 68.52 | 23.75 | 2.714 | 1.90% |
| 51 | 637-704 | 96.00 | 69.24 | 24.00 | 2.743 | 1.92% |
| 52 | 646-714 | 97.00 | 69.96 | 24.25 | 2.771 | 1.94% |
| 53 | 656-725 | 98.00 | 70.68 | 24.50 | 2.800 | 1.96% |
| 54 | 665-735 | 99.00 | 71.40 | 24.75 | 2.829 | 1.98% |
| 55 | 675-746 | 100.00 | 72.12 | 25.00 | 2.857 | 2.00% |
| 56 | 684-756 | 101.00 | 72.84 | 25.25 | 2.886 | 2.02% |
| 57 | 694-767 | 102.00 | 73.57 | 25.50 | 2.914 | 2.04% |
| 58 | 703-777 | 103.00 | 74.29 | 25.75 | 2.943 | 2.06% |
| 59 | 713-788 | 104.00 | 75.01 | 26.00 | 2.971 | 2.08% |
| 60 | 722-798 | 105.00 | 75.73 | 26.25 | 3.000 | 2.10% |
| 61 | 732-809 | 106.00 | 76.45 | 26.50 | 3.029 | 2.12% |
| 62 | 741-819 | 107.00 | 77.17 | 26.75 | 3.057 | 2.14% |
| 63 | 751-830 | 108.00 | 77.89 | 27.00 | 3.086 | 2.16% |
| 64 | 760-840 | 109.00 | 78.61 | 27.25 | 3.114 | 2.18% |
| 65 | 770-851 | 110.00 | 79.34 | 27.50 | 3.143 | 2.20% |
| 66 | 779-861 | 111.00 | 80.06 | 27.75 | 3.171 | 2.22% |
| 67 | 789-872 | 112.00 | 80.78 | 28.00 | 3.200 | 2.24% |
| 68 | 798-882 | 113.00 | 81.50 | 28.25 | 3.229 | 2.26% |
| 69 | 808-893 | 114.00 | 82.22 | 28.50 | 3.257 | 2.28% |
| 70 | 817-903 | 115.00 | 82.94 | 28.75 | 3.286 | 2.30% |
| 71 | 827-914 | 116.00 | 83.66 | 29.00 | 3.314 | 2.32% |
| 72 | 836-924 | 117.00 | 84.38 | 29.25 | 3.343 | 2.34% |
| 73 | 846-935 | 118.00 | 85.10 | 29.50 | 3.371 | 2.36% |
| 74 | 855-945 | 119.00 | 85.83 | 29.75 | 3.400 | 2.38% |
| 75 | 865-956 | 120.00 | 86.55 | 30.00 | 3.429 | 2.40% |
| 76 | 874-966 | 121.00 | 87.27 | 30.25 | 3.457 | 2.42% |
| 77 | 884-977 | 122.00 | 87.99 | 30.50 | 3.486 | 2.44% |
| 78 | 893-987 | 123.00 | 88.71 | 30.75 | 3.514 | 2.46% |
| 79 | 903-998 | 124.00 | 89.43 | 31.00 | 3.543 | 2.48% |
| 80 | 912-1008 | 125.00 | 90.15 | 31.25 | 3.571 | 2.50% |
| 81 | 922-1019 | 126.00 | 90.87 | 31.50 | 3.600 | 2.52% |
| 82 | 931-1029 | 127.00 | 91.60 | 31.75 | 3.629 | 2.54% |
| 83 | 941-1040 | 128.00 | 92.32 | 32.00 | 3.657 | 2.56% |
| 84 | 950-1050 | 129.00 | 93.04 | 32.25 | 3.686 | 2.58% |
| 85 | 960-1061 | 130.00 | 93.76 | 32.50 | 3.714 | 2.60% |
| 86 | 969-1071 | 131.00 | 94.48 | 32.75 | 3.743 | 2.62% |
| 87 | 979-1082 | 132.00 | 95.20 | 33.00 | 3.771 | 2.64% |
| 88 | 988-1092 | 133.00 | 95.92 | 33.25 | 3.800 | 2.66% |
| 89 | 998-1103 | 134.00 | 96.64 | 33.50 | 3.829 | 2.68% |
| 90 | 1007-1113 | 135.00 | 97.37 | 33.75 | 3.857 | 2.70% |
| 91 | 1017-1124 | 136.00 | 98.09 | 34.00 | 3.886 | 2.72% |
| 92 | 1026-1134 | 137.00 | 98.81 | 34.25 | 3.914 | 2.74% |
| 93 | 1036-1145 | 138.00 | 99.53 | 34.50 | 3.943 | 2.76% |
| 94 | 1045-1155 | 139.00 | 100.25 | 34.75 | 3.971 | 2.78% |
| 95 | 1055-1166 | 140.00 | 100.97 | 35.00 | 4.000 | 2.80% |
| 96 | 1064-1176 | 141.00 | 101.69 | 35.25 | 4.029 | 2.82% |
| 97 | 1074-1187 | 142.00 | 102.41 | 35.50 | 4.057 | 2.84% |
| 98 | 1083-1197 | 143.00 | 103.14 | 35.75 | 4.086 | 2.86% |
| 99 | 1093-1208 | 144.00 | 103.86 | 36.00 | 4.114 | 2.88% |
| 100 | 1102-1218 | 145.00 | 104.58 | 36.25 | 4.143 | 2.90% |
| 101 | 1112-1229 | 146.00 | 105.30 | 36.50 | 4.171 | 2.92% |
| 102 | 1121-1239 | 147.00 | 106.02 | 36.75 | 4.200 | 2.94% |
| 103 | 1131-1250 | 148.00 | 106.74 | 37.00 | 4.229 | 2.96% |
| 104 | 1140-1260 | 149.00 | 107.46 | 37.25 | 4.257 | 2.98% |
| 105 | 1150-1271 | 150.00 | 108.18 | 37.50 | 4.286 | 3.00% |
| 106 | 1159-1281 | 151.00 | 108.91 | 37.75 | 4.314 | 3.02% |
| 107 | 1169-1292 | 152.00 | 109.63 | 38.00 | 4.343 | 3.04% |
| 108 | 1178-1302 | 153.00 | 110.35 | 38.25 | 4.371 | 3.06% |
| 109 | 1188-1313 | 154.00 | 111.07 | 38.50 | 4.400 | 3.08% |
| 110 | 1197-1323 | 155.00 | 111.79 | 38.75 | 4.429 | 3.10% |
| 111 | 1207-1334 | 156.00 | 112.51 | 39.00 | 4.457 | 3.12% |
| 112 | 1216-1344 | 157.00 | 113.23 | 39.25 | 4.486 | 3.14% |
| 113 | 1226-1355 | 158.00 | 113.95 | 39.50 | 4.514 | 3.16% |
| 114 | 1235-1365 | 159.00 | 114.68 | 39.75 | 4.543 | 3.18% |
| 115 | 1245-1376 | 160.00 | 115.40 | 40.00 | 4.571 | 3.20% |
| 116 | 1254-1386 | 161.00 | 116.12 | 40.25 | 4.600 | 3.22% |
| 117 | 1264-1397 | 162.00 | 116.84 | 40.50 | 4.629 | 3.24% |
| 118 | 1273-1407 | 163.00 | 117.56 | 40.75 | 4.657 | 3.26% |
| 119 | 1283-1418 | 164.00 | 118.28 | 41.00 | 4.686 | 3.28% |
| 120 | 1292-1428 | 165.00 | 119.00 | 41.25 | 4.714 | 3.30% |
| 121 | 1302-1439 | 166.00 | 119.72 | 41.50 | 4.743 | 3.32% |
| 122 | 1311-1449 | 167.00 | 120.45 | 41.75 | 4.771 | 3.34% |
| 123 | 1321-1460 | 168.00 | 121.17 | 42.00 | 4.800 | 3.36% |
| 124 | 1330-1470 | 169.00 | 121.89 | 42.25 | 4.829 | 3.38% |
| 125 | 1340-1481 | 170.00 | 122.61 | 42.50 | 4.857 | 3.40% |
| 126 | 1349-1491 | 171.00 | 123.33 | 42.75 | 4.886 | 3.42% |
| 127 | 1359-1502 | 172.00 | 124.05 | 43.00 | 4.914 | 3.44% |
| 128 | 1368-1512 | 173.00 | 124.77 | 43.25 | 4.943 | 3.46% |
| 129 | 1378-1523 | 174.00 | 125.49 | 43.50 | 4.971 | 3.48% |
| 130 | 1387-1533 | 175.00 | 126.22 | 43.75 | 5.000 | 3.50% |