Science is the key ingredient to boosting your industries. You can get Science by:
Science is used to buy (and level up) Researchers.
Income from resources
[
]
Science is earned every time the collected amount of a resource passes a power of 10 (i.e. 10, 100, 1,000, 10,000, etc.). The amount earned is dependent on which industry the resource is in: 1 for Potato, 2 for Land, 3 for Ore, 4 for Military, and 5 for Placebo. To collect the earned Science, simply tap on the icon of the resource.
The amount of science that is ready to be collected for a particular resource will appear in a bubble above the resource's icon.
Buying with Gold
[
]
As well as getting science from capsules, players have the options to buy it for gold.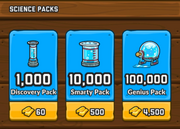 You can buy science at the following rates:
60 Gold = 1,000 Science
500 Gold = 10,000 Science
4,500 Gold = 100,000 Science