Greetings Comrades!
AdVenture Communist is an idle tycoon game developed by Hyper Hippo. It is the sequel to AdVenture Capitalist. The goal of the game is to complete missions and special operations by producing resources, owning industries and collecting researchers and science. There is also several short time events that run every week that will earn you rewards for the motherland. The game can be downloaded on App Store and Google Play for free. Before creating or editing any page here, please read our simple community rules and do your best to follow them.
This material is not official and is not endorsed by Hyper Hippo. For more information, see Hyper Hippo's Fan Content Policy: (https://hyperhippo.com/fan-content-policy/)
Game mechanics
Events
Guides
Industries
Supreme Researchers
Capsules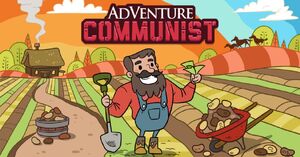 Editing resources
The glorious AdVenture Communist Wiki is still in an early stage of development! You can help improve the wiki by creating a page or editing one.
For New Ranks
Just enter rank then the number
and hit the button!
Wiki tools